It's not even that big

Brændstof-regnskab:
1310,88 liter diesel (1085,03 liter i 2012)
13570,58 kroner (11518,43 kroner i 2012)
19279 kilometer (15774 kilometer i 2012)
gennemsnit:  10,35 kroner per liter og 14,7 kilometer per liter (10,62 kroner per liter og 14,5 kilometer per liter i 2012)
Bilen har kørt udmærket i det forgangne år. Bortset fra et 20.000 km intervaleftersyn, har den pænt holdt sig ude af værkstederne i 2013. I det nye år skal den have nye forbremser (både skiver og klodser) og en ny tandrem.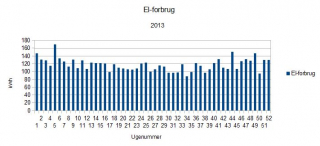 El-forbrug:
6119 kWh (6275kWh i 2012)
uge-gennemsnit: 118 kWh
Endnu en gang et lille fald i forhold til sidste år, hvilket egentlig overrasker mig lidt 🙂
Vand-forbrug:
158,6 m3 (153,6 m3 i 2012)
uge-gennemsnit: 3,0 m3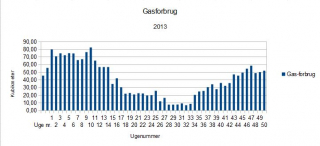 Naturgas-forbrug:
2112,69 m3 (1926,86 m3 i 2012)
uge-gennemsnit: 40,63 m3
Endnu en gang en svag stigning i forhold til året før.