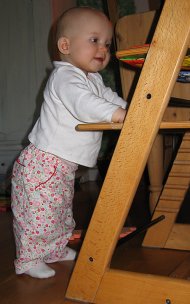 Emma må endnu en gang se sig indhentet af Andrea. Trods flere måneders forspring i at kunne "stå på egne ben", enten ved let støtte fra mor eller far, eller lænet op af noget stabilt, så er hun nu indhentet af Andrea. For blot 14 dage siden kunne hun ellers slet ikke fatte hvad ben var til for – man kravlede jo fint ved hjælp af armene.
Men som billedet viser er hun kommet efter det :cool:.
Emma ligger nu heller ikke på den lade side og kæmper nu en ihærdig kamp for at komme op på alle fire. Rækker man to pegefingre til hende, så griber hun fast og vil trækkes op at stå – og når hun er der, så vralter hun lystigt afsted, i et tempo Andrea slet ikke kan matche. Det sker også, at hun i farten glemmer at holde fast i pegefingrene og så går det altså ikke så godt :wink:. Men hun er begyndt selv at søge balance, hvor hun for bare en uge siden var helt stiv i kroppen, når hun stod op. Mon ikke de begge to er gående, i løbet af ganske kort tid og det er da vist ganske ok, i en alder af knap 9 måneder :cool:.