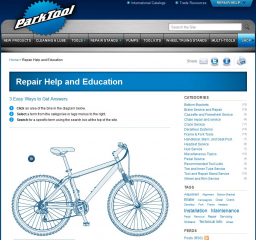 Så stod jeg lige der og skulle have afmonteret nogen cykelpedaler, så den gamle reservecykel ikke fyldte så meget. Og der er jo noget med pedaler, så meget kunne jeg huske fra min ungdom – en af siderne har links-gevind og skal altså løsnes modsat af normalen. Men hvilken side var det nu?
Her kommer internettet til sine fulde ret – det tog ikke mange øjeblikke at finde denne fine side: Park Tool: Repair Help and Education
Links er jo tysk og betyder venstre og det er netop venstre pedal, der har links-gevind, mens højre pedal har det normale højregevind. Der er dog flere gode huskeregler – for eksempel fandt jeg en der skrev, at når man strammer pedalerne bliver kæden stram. En anden var mere pragmatisk – hvis det ikke virker den ene vej, så prøv den anden! Jeg vil nok anbefale en af de to første.